Almemo 2490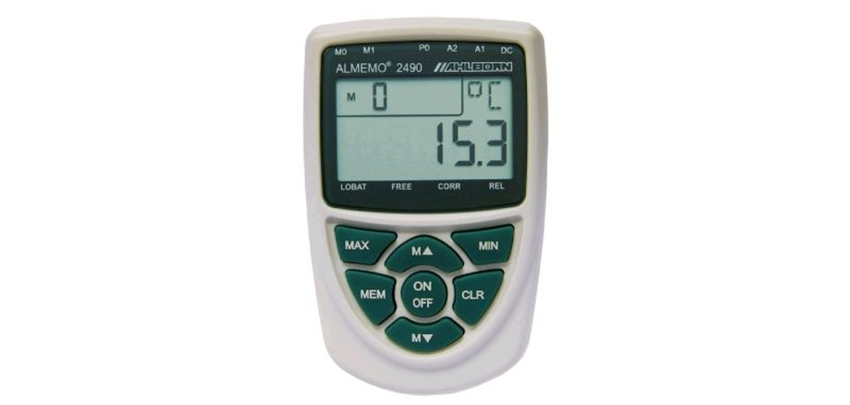 Ahlborn Almemo MA-2490-2A universeel meetinstrument.
Ahlborn Almemo MA 2490 Basic universeel meetinstrument voorzien van 2 Almemo ingangen. Geschikt voor stekkers met een multi-point correctie.
2,5 of 10 metingen per seconde.
1 of 2 Almemo Ingangen.
2 Almemo uitgangen
Delta Sigma 16 bit resolutie
3 1/2 digit uitlezing.
65 verschillende meetbereiken.
Automatische sensorherkenning
Voeding d.m.v. 3x1,5 V batterij.
Stevige ABS behuizing
Rubber beschermhoes als optie leverbaar.
Inclusief AMR Control software
Download Ahlborn Almemo 2490 PDF datasheet.
Ahlborn Almemo 2490 Technical data and functions
Generously dimensioned 2-row static 7 / 16 segment display including units
Easy and convenient to operate by means of 7 keys
Over 65 standard measuring ranges
Memory sufficient for 100 measured values, can be called up and viewed in the display
Good measuring accuracy, measuring rate up to 10 measuring operations per second (mops)
Support for ALMEMO®

 

plugs with multi-point adjustment, special linearization, and special measuring ranges
Measuring functions
Measured value, zero-setting, sensor adjustment, saving of maximum / minimum values, memory for 100 values, cold junction compensation, and temperature compensation
Test functions
Segment monitoring, range monitoring, sensor breakage indication, battery voltage check and display