De Mecotec DPC 400 is een mobile elektronische drukregelaar die d.m.v. een
CO2 capsule een druk kan genereren  tot 80 bar.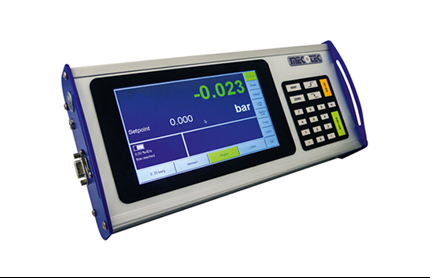 DPC 400 Draagbare druk regelaar en kalibrator

Eigenschappen:
   Bediening d.m.v.  een 7" touch screen display + toetsen.
   Logger functie: 1-kanaal, 18 samples/second
   Lek test functie
   Drukverzorging CO2 capsule tot 80 bar
   Grafische uitlezing.
   Opslag op USB stick
   Werkt 6 op interne batterijen.
   Aansluiting voor externe druk sensoren
Technische specificaties:
   Druk bereik:                van vacuum tot 300 bar
   Eco versie:                  CO2 druk verzorging  0 ... 80 bar
   Nauwkeurigheid:          0.1% / 0.05% / 0.02% FS
   Medium:                      Air, gases
   Interfaces:                   RS232, USB
  
Afmeting:                      74 x 300 x 155 mm (H x W x D)
Gewicht :                       2,600 g
Scope of delivery:           Case and mains charger
Option:                          Draaggordel.
DPC 400 Portable pressure controller and calibrator.

Features:
   Intuitive operation via 7" touch display + keypad
   Logger function: 1-channel, 18 samples/second
   Leak test function
   Pressure supply with CO2 cartridges up to 80 bar
   Graphic display
   Storage on USB stick
   Battery operation up to 6 hours
   Connection to external sensors
Technical specifications
   Pressure range:                From vacuum up to 300 bar
   Eco version:                     CO2 pressure supply from 0 ... 80 bar
   Accuracy:                         0.1% / 0.05% / 0.02% FS
   Pressure media:                Air, gases
   Interfaces:                        RS232, USB
   Dimensions:                      74 x 300 x 155 mm (H x W x D)
   Weight:                             2,600 g
   Scope of delivery:              Case and mains charger
   Option:                              Available with shoulder strap on request