Crystal XP2i ATEX testmanometer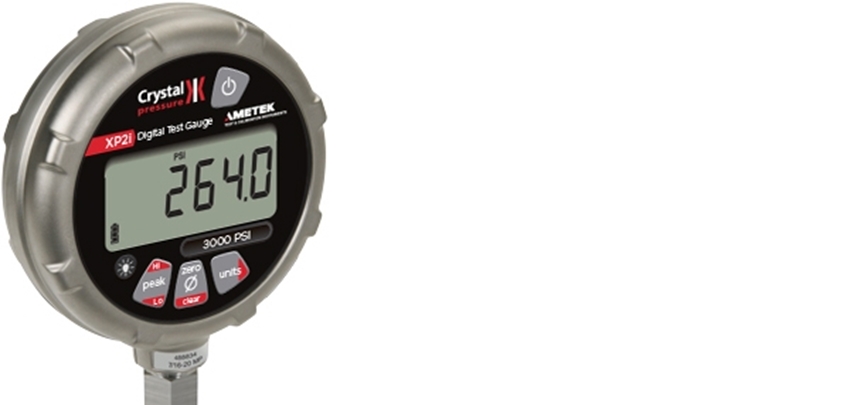 Artikel Nr.: XP2i Atex
The best digital test gauge in the world.........
De Crystal XP2i ATEX digitale manometer heeft standaard een nauwkeurigheid van 0,1% van de gemeten waarde zodat de nauwkeurigheid voldoende is om een aantal analoge testmanometers mee te vervangen.
In combinatie met de GaugeCalHP vergelijkingspomp heeft men een prima combinatie voor het snel en nauwkeurig kalibreren van o.a. manometers en druksensoren.
Daarnaast wordt de XP2i testmanometer gebruikt voor het testen van leidingen en vele andere toepassingen en met name in de offshore industrie is de XP2i een zeer gewild instrument.

De XP2i digitale manometer is toepasbaar onder zeer extreme weersomstandigheden zowel bij koude als warme temperaturen blijft de manometer binnen de specificaties, en is tevens IP67 waterdicht.
Specificaties XP2i digitale test manometer :
Roestvast stalen gelaste druksensor.

Leverbaar in overdruk, absolute druk en verschildruk.

Onder of achteraansluiting.

Meetbereiken to 1000 bar.

9 verschillende engineering eenheden.

Nauwkeurigheid 0,1% van de uitlezing. Optioneel 0,02% fs.

Volledige temperatuurcompensatie tussen -10 en +50°C dus geen extra fouten op basis van temperatuur !

Hoog overbelastbaar.

5 digit uitlezing.

Grote 0,65" high contrast LCD display met achtergrond verlichting.

Peak hold funktie.

NEMA4 en IP67 behuizing.

CE uitvoering.

RS232 interface.

Werkt 1500 uur op 3 AA batterijen.

Eex i intrinsiek veilige Atex uitvoering.

Uit te breiden met een datalogger optie.

FastCalXP kalibratie software als optie leverbaar.
De test manometers zijn leverbaar in de volgende meetbereiken:
-1 tot 2 bar, 7 bar, 20 bar, 30 bar, 70 bar, 200 bar, 300 bar, 700 bar en 1000 bar.
Als optie kunnen wij 0,05% en 0,02% fs nauwkeurigheid leveren.
XP2i ATEX digital test gauge
Ultra rugged, digital test gauge with 0.1% of reading, 0.02% of full scale, or 0.05% of full scale accuracy levels.




Temperature compensated from -10 to +50°C accuracy not effected by temperature. 

Available up to 1000 bar.

Absolute, gauge or differential pressure versions.

ATEX intrinsically safe.

Large 0,65" high contrast LCD display

IP67 marine grade enclosure resists corrosion


RS232 interface (optional software).

Datalogger option.
Download Crystal Ametek XP2i digital test gauge brochure.