FSM AG PrimAtue lagedrukverschilzender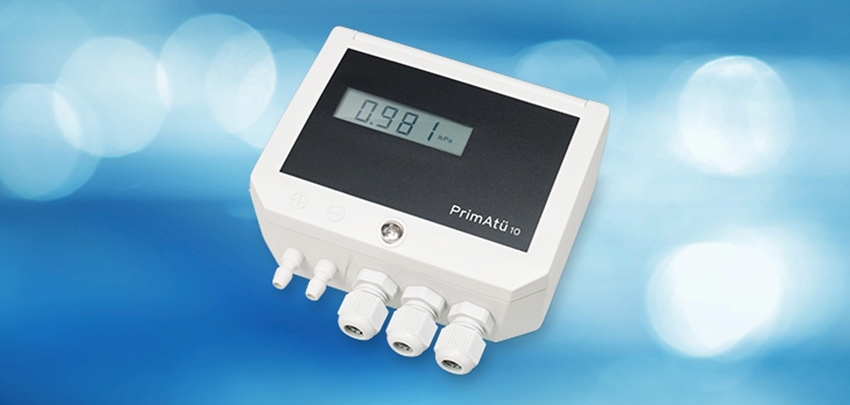 Artikel nr.: PrimAtue10
De nieuwe PrimAtue10 lagedrukverschilzender van FSM AG is speciaal ontwikkelt voor het meten van lagedrukverschillen voor gebruik in cleanroom, gebouw automatisering, medische en HVAC systemen.

De PrimeAtue10 meet druk en drukverschillen vanaf 0 tot 50 Pa tot 1000 hPa. Nauwkeurigheid 1 of 2% fs.
Het bereik en de configuratie zijn vrij te selecteren

De PrimeAtue10 is leverbaar in verschillende configuraties zoals 24 VDC of 230 VAC uitvoering, 0 tot 10 V, 0 tot 20 mA of 4 tot 20 mA uitgang.

Als optie is een RS485 interface ( Modbus, BACnet ) en een LCD uitlezing beschikbaar. Verder kan worden gekozen uit wand of DIN rail montage en het type kabeldoorvoer.

Wij kunnen deze instrumenten leveren voor een zeer redelijke prijs en met een korte levertijd.
Our latest PrimAtü 10 pressure transducer detects minute differential pressures with the highest accuracy. Thanks to its freely selectable pressure ranges and the possibility of connecting various interfaces, the PrimAtü 10 offers maximum flexibility – at an attractive price. Zero offsets and amplitude variations can be easily corrected at the touch of a button. The PrimAtü 10 can be attached either on a profile rail or by means of screws. All installation accessories are included. The PrimAtü 10 has a cover which can be fixed in the open position, spring-loaded terminals and ample space in the terminal compartment for quick and easy connection. 
Features
Measurement range (freely selectable): 0,5 - 1000 hPa
Overall accuracy (FS): 1 % / 2 %
Long-term stability (FS / year): ≤ 0,5 %
Temperature drift (FS / K): ≤ 0,01 %
Supply voltage: 24 VDC / VAC, 230 VAC
Output signal: 0 - 10 V, 0 - 20 mA, 4 - 20 mA
Option: LCD Display; Digital Interface RS485 (Modbus, BACnet)
Protection class: IP54
Installation: Top-hat rail / Threaded fittings
Cable gland: 2 x PG M12 x 1,5; 3 x PG M12 x 1,5; 1 x PG M16 x 1,5
Choice of units: hPa, Pa, mbar, psi
Sensor: Silicon Sensor
Time constant: 0-4000 ms
Download FSM AG PrimeATU drukverschiltransmitter datasheet.