Montwill M1 digitale paneelmeter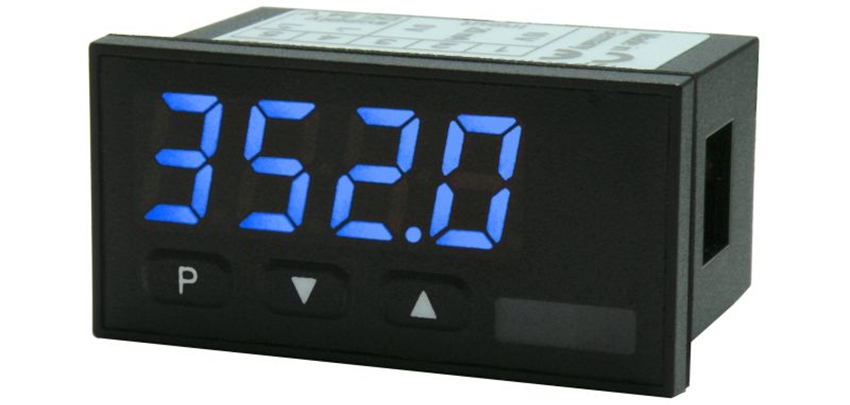 Artikel nr.: M1 proces display
Montwill M1 digitale display in 4 digit uitvoering.


Meet gelijkspanning, gelijkstroom en diverse proces signalen. 
0/4-20 mA / Span -22...24 mA
0-10 VDC / Span -12...12 VDC
Pt100, Pt1000, Thermokoppel, puls teller, frequentie
De paneelmeter heeft heldere 10 mm hoge cijfers in rood, groen, geel of blauw.
Leverbaar in 96x48 , 96x24 , 72x36 en 48x24 mm uitvoering.
38 mm ondiepe behuizing.
IP65 uitvoering.
Programmeerbaar d.m.v. toetsen op de voorkant van de paneelmeter of via software.
Tare-funktie.
Min/max functie.
Blokkeren d.m.v toegangs-code.
Housing
48 x 24 mm
Display
4-digit
10 mm digit height
Colour: red
Range displayed
-1999 to 9999
Operation
front panel keyboard protection class IP65
Input
Voltage 0-10VDC
Current 0/4-20mA
Pt100 2-/3-wire
Pt1000 2-wire
Thermocouple type L, J, K, B, S, N, E, R, T
Frequency
Rotation speed
Counter
Pulse input: TTL, HTL/PNP, NPN, Namur
Analogue Output
-
Switch point
2 semiconductor switchpoint
Interface
-
Power supply
9-28 VDC galv. not isolated
Sensor supply
-
Software properties

min/max-value recording
5 adjustable supporting points
display flashing at threshold value exceedance/undercut
Tara function
two semiconductor switchpoints
programming interlock via access code
Housing
96 x 48 mm
Display
5-digit
14 mm digit height
Colour: red
Range displayed
-9999...99999
Operation
front panel keyboard protection class IP54
Input
Voltage 0-10VDC
Current 0/4-20mA
Shunt 15, 35, 75, 150, 300, 500, 1250, 2500mV
Pt100 2-/3-/4-wire -200,0...850,0°C
Thermocouple type L, J, K, B, S, N, E, R, T
Resistance 100Ohm, 1kOhm, 10 kOhm
Digital input: <2.4V OFF, >10V ON, max. 30 VDC
Analogue Output
0-20 mA Burden ≤500Ohm 12Bit
4-20 mA Burden ≤500Ohm 12Bit
0-10 VDC Burden ≥100kOhm 12Bit
Switch point
2 or 4 relays (change-over contacts)
250 V / 5 AAC, 30 V / 5 ADC
Interface
RS232 or RS485 galvanic isolated
Power supply
10-40 VDC / 18-30 VAC 50/60Hz
100-240 VAC 50/60 Hz / DC +/- 10%
Sensor supply
24 VDC / 50 mA
10 VDC / 20 mA
Software properties

min/max-memory with adjustable permanent display
30 additional adjustable supporting points
display flashing at threshold value exceedance/undercut
volume metering (Totaliser)
sliding averaging
zero-point slowdown
adjustable display brightnes
selectable display mode
hold-/tara function
flexible alarm system with adjustable delay times
programming interlock via access code