Meriam MFC 5150 Hart Communicator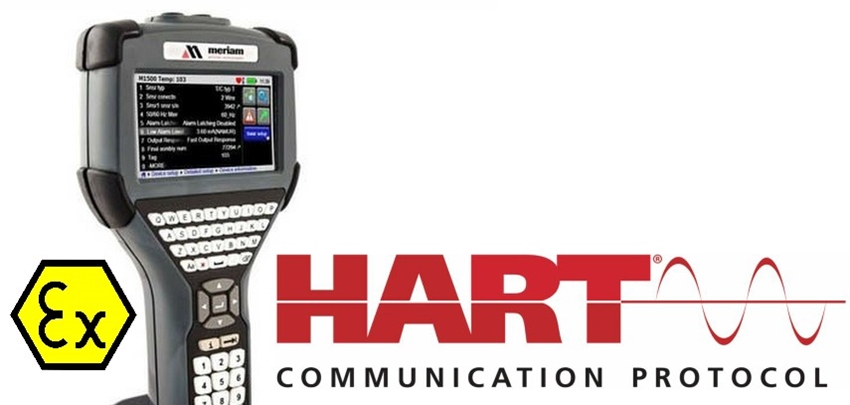 Meriam MFC 5150 Universele touch screen Hart Communicator
De Meriam MFC5150 is een universele HART communicator voor het configureren en afstellen van HART instrumenten en transmitters.
Ook leverbaar in ATEX uitvoering model MFC5150X.
Voorzien van een 4,3 inch touch screen anti reflectie scherm.
Leest DDs direct zonder vertaling.
De Meriam MFC5150 communiceerd met alle geregistreerde en ongeregistreerde instrumenten onafhankelijk van het merk of product.
Ondersteund algemene en instrument specifieke commando's.
Eenvoudig te bedienen met een volledig QWERTY toetsenboard.
Ondersteund Multidrop operation en off-line configuratie welke kunnen worden opgeslagen voor later gebruik
Groot intern geheugen en micro SD kaart voor opslag van data en configuraties.
Incl. gratis update service. Nieuwe  instrumenten kunnen eenvoudig via internet worden gedownload dus geen  extra kosten voor download van instrumenten.
Oplaadbare batterijen inclusief lader.
USB interface voor snelle communicatie en datatransfer.
Factory Loaded DDs       YouTube Intro Video
The MFC5150 HART® Communicator is the latest addition to Meriam's product line of hand-held calibrators and field communicators. Available in ATEX (intrinsically safe) and Non-ATEX models, the MFC5150 directly reads Device Descriptions without any translations or subscriptions, enabling communication to take place with any registered or unregistered HART® device. This ensures your HART® transmitter will connect, regardless of brand or model.
The MFC5150 is built on the SDC-625 infrastructure and runs Windows CE.
With a 1 GHz processor and an 4 GB Micro SD card, this HART® communicator is ideal for all of your data storage needs.
The 4.3 inch touchscreen provides excellent anti-glare viewing, allowing for comfortable mobile use in darkness or in bright sunlight.
All functions are easily navigated via the full QWERTY keyboard and intuitive icons similar to that of a smart phone.
The handheld HART device also features hyperlink menu paths, teachable device specific shortcuts, instant on, multiple languages, help context, video's and TAB access to panes just like on a computer.
Each unit includes: Docking Station with Universal Power Adapters, HART® Lead Kit, Rechargeable Battery Pack, USB Cable and SD Card, Soft Carrying Case, Hand Strap, Quick Start Guide.
For more information on how to purchase the MFC5150 HART® Communicator contact sales@meriam.com or call 216.281.1100
New Features Include
Full suspend/resume functionality
Improved user GUI interaction (data entry, screen response, gesturing, HART® beat)
Repolling for HART® devices
Hot Key Menu
Standard Features Include
Reads manufacturers' DDs in their native format from any HART® registered or unregistered device, eliminating the need for translations
ATEX (Intrinsically Safe) and Non-ATEX models available
XL Battery enabling 10 hrs continuous use minimum at 100% backlight, 30 days minimum while off and 1 year minimum in Storage with battery removed
Charging cradle with USB connection
No subscriptions required
Typical Applications
Commission devices
Reconfiguration for process changes
Troubleshoot devices with HART®
Ease of Use
Quick start up and connect
On demand help menus
Manage device information through PC connection