Digitale Smart Manometers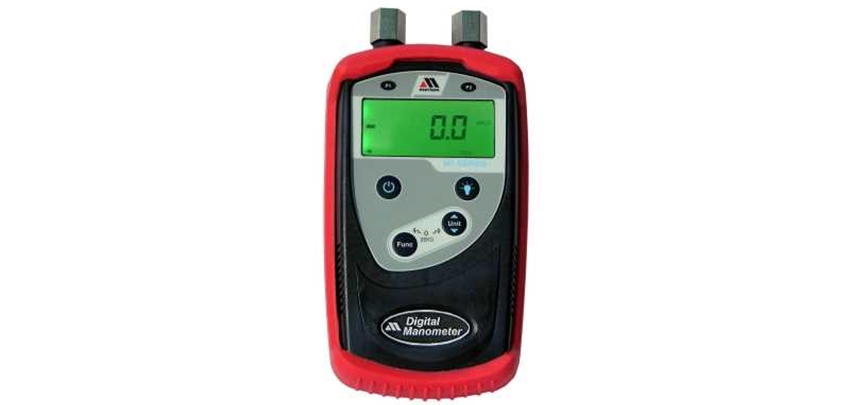 Meriam Digitale Smart Manometers.
De Meriam Smart manometers zijn leverbaar in verschillende uitvoeringen.
M100 digitale drukverschil manometer
Meetbereik vanaf 70 mbar.
Nauwkeurigheid: 0,1 of 0,25% fs.
M200 digitale smart manometer
Meetbereik vanaf 25 mbar.
Nauwkeurigheid: 0,05 of 0,025% fs.
M202 Precision Absolute Manometer. 
Meetbereik: 0 tot 1150 mbar A of 0 tot 2,7 bar A
Nauwkeurigheid: 0,02% fs
The M1 Series of handheld manometers from Meriam Process Technologies combines form, fit and function to deliver precision pressure measurement for field, plant or lab use. For reference indication and shirt pocket convenience, select the low cost M100 Digital Manometer with its ± 0.25 % FS accuracy.
Or specify the M101 Calibrator when better accuracy is needed for more exacting measurements. The M101 delivers ± 0.10 % FS accuracy and additional features normally found on higher priced instruments. Both models are available in differential, gauge and absolute pressure versions.
Typical applications include leak testing for low pressure gas systems, pressure drop monitoring across filters, monitoring vacuum on condensers or pumps and verification of CPAP or BIPAP systems for home or hospital settings.
Meriam's M2 Series Smart Manometers bring high precision and value to handheld, digital manometer users. The M2 features NIST traceable accuracy of ± 0.025 % of F.S., independent of temperature effect, at the lowest prices available. Pressure ranges from 10″ H2O F.S. to 3000 PSIG F.S. are available. M2 pressure sensors are available to measure gauge, compound, differential, absolute or vacuum pressure. The display can read out in any of eleven pressure units or can be linearly scaled for special user units. Differential models offer a square root flow function to display flow rate in user defined units. An adjustable damping feature minimizes the effects of pulsating pressures. A Min/Max function captures the extremes of pulsating or varying pressure signals and a Hold function can freeze the display at any point of interest. Auto Record documents up to 240 readings for future recall.