M1000 digitale manometer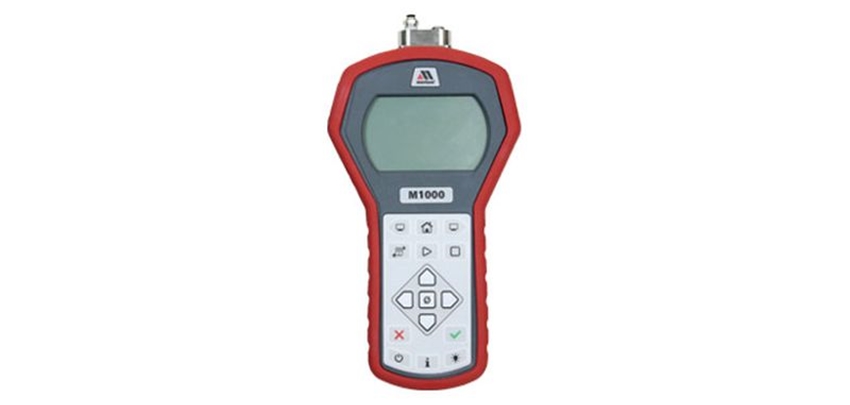 De Meriam M1000 is een digitale manometer voor het meten van overdruk, verschildruk of absolute druk.
De digitale manometer is leverbaar in diverse bereiken vanaf -1 tot 7 bar ( -14,5 tot 100 PSI ).
De M1000 heeft diverse engineering eenheden mmHg, inHg, inH2O, mmH2O, kPa, mbar, en psi.
De nauwkeurigheid is 0,02% fs + 0,005% van de gemeten waarde.
De resolutie van deze manometer is 6 digits.
Standaard geleverd inclusief een rubber beschermhoes.
De Meriam M1000 word o.a. toegepast voor het kalibreren van transmitters, lektesten van lagedruk gas systemen,  drukverschilmeting over filters en het monitoren van vacuüm condensors en pompen.
Meriam's M1000 Digital Calibrator is a single function, portable pressure instrument with flexible features to meet many of your everyday pressure measurement needs. The device features an easy and intuitive user interface with convenient pressure connections.
Features
Damping to stabilize fluctuating pressure signals
Zero key and user adjustments for manual calibration
Protective Red Boot
Compound, Absolute and Differential pressure sensors
Wide variety of ranges available: -14.5 psi to 100 psi
Optional pressure fitting, vacuum, and hand pump kit
Offering the following measurement units: mmHg, inHg, inH2O, mmH2O, kPa, mbar, and psi
Applications
Pressure transmitter calibration
Leak testing for low pressure gas systems
Pressure drop monitoring across filters
Monitoring vacuum on condensers and pumps