Almemo 500 Datalogger Meetsysteem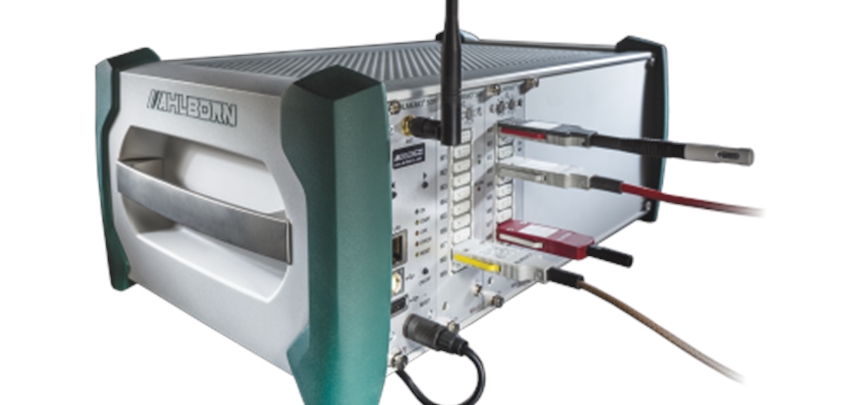 Almemo 500 meetsysteem datalogger.
Almemo 500 datalogger meetsysteem MA500CPUA20TGxx. Geschikt voor de meest complexe vele metingen. Te bedienen via Ahlborn software of via een tablet, 90 meetingangen.
Kan zowel met de analoge stekkers alsook met de digitale V6 en V7 werken.
Precision measuring instrument and data logger.
up to 90 measuring inputs.
Comprehensive functions covering all application areas.
Tablet control via app.
Designs and specifications see data sheet.
The increasing digitalization and networking changes the entire chain of production.
This also applies to measuring instruments that must be able to integrate themselves into existing networks – Keyword Industry 4.0. Our new web-based technology positions us future-proof for the era of increasing networking. Our customer receives a scalable system for recording numerous measuring points with maximum precision.
The device can be controlled via tablet and state-of-the-art interfaces such as USB. A web service makes the measurement data accessible anywhere and anytime. The new networking features are perfect for e.g. monitoring climate or production processes. It is possible to access all networking features and measured value enquiries via tablet app or – as usual with Ahlborn devices – via PC using the WinControl software.
Measuring inputs: Standard confi guration: 20 ALMEMO®-input sockets for all ALMEMO® sensors (standard, DIGI, D6, D7) Channels.
up to 200 measurement channels Expansion: up to 90 input sockets (depending on the device housing)
Precision class: AA (see Catalog, p.01.04)
Measuring rate for analog sensors, DIGI and D6 sensors: 100 / 50 / 10 / 2.5 mops
Galvanic Isolation using semiconductor relays (50V) for analog sensors additional galvanic isolation between measuring input and power supply (device ground)
Sensor power supply: 6 / 9 / 12V, maximum 400mA 
Interfaces: 2 USB ports for additional memory and networking, Ethernet, Wi-Fi for accessing the web service and networking
Control unit industrial tablet with preinstalled app ALMEMO® 500
Memory: 4GB SD card (for up to 600 million measured values)
Date and time-of-day: Real-time clock (4.7ppm) buffered with lithium battery
Mains adapter: ZB1212NA10, 100 to 240VAC, 12VDC, 2A galvanically isolated
Recharg. battery (accessory): 2 lithium-batteries, total of 13.8 Ah, integrated high-speed charging (3h)
Power consumption (without input and output modules) approx. 300 mA without sensors (default confi guration)
Housing Desktop housing TG6 390 x 160 x 260 mm (W x H x D), appr. 4 kg Desktop housing TG8 497 x 160 x 260 mm (W x H x D), appr. 4.5 kg Rack housing BT8 483 x 132 x 273 mm (W x H x D), appr. 4.5 kg
 Download Ahlborn Almemo 500 datasheet